Have you recently been exposed to WhatsApp marketing and you're considering integrating that into your business (you received a WhatsApp about a crazy end-of-the-season sale that caught your attention and you also want to send similar messages to your clients)? Great. After fully examining the meaning of WhatsApp marketing and understanding the course of action, you're now at a point where you are wondering what would be the best way of combining WhatsApp marketing into your business.
WhatsApp allows persona, direct, and two-way communication with your recipients. It enables sending various files (audio, images, video, and gifs), and could be a great tool for certain content.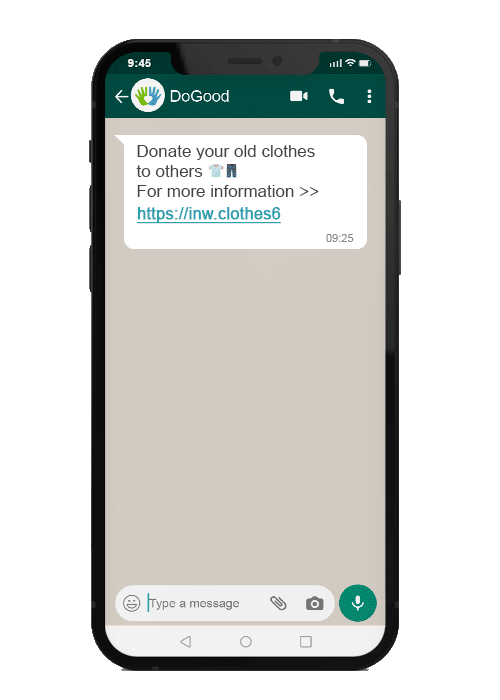 Which, you ask? We've assembled a list of great uses for WhatsApp marketing that you could combine into your business services. All you have left to do is cut (or take a screenshot) and save it:
Customer service: the characteristics that create a great customer service experience is convenience and fast response. That is why WhatsApp, which at its core answers these criteria, could match businesses looking for a comfortable interface for their clients for instant and easy-to-use customer service. For example, if you have a traveling agency and a client would like to contact you to change their vacation dates, WhatsApp chat is an easy solution in this case.
Technical support: like every good client service, a great tech support service is best provided when it's fast and easy to use. WhatsApp tech support allows quickly sending different information such as photos, tutorials, written instructions and text messages that will easily and clearly explain the problem and allow a quick response and solution.
Long-term relationships with clients: to remain present in your client's minds, it is important to create a sense of continuity and availability. For example, if a client purchased a smartphone on your website, send them a WhatsApp message with a link to the tutorial and make sure to mention that you are available for any questions. Make sure to send them updates one week later, a coupon on their birthday and so on.
Ordering deliveries and services: assuming your clients aren't millennials, they would probably prefer WhatsApp communication over the phone. In case your business is a restaurant, enable ordering delivery over WhatsApp. This way will allow you to keep track of orders and special requests and keep the information documents. It will also feature your business as modern and light.
Consulting: the immediacy of WhatsApp makes it particularly suitable for various consulting services. For example, if you own a clinic, a WhatsApp conversation with your patients could be a convenient and time-saving communication route for them and you.
Scheduling appointments: one of the most crucial things about appointments is availability and rapidity, which allow fast updates of your schedule. For example, if you are a therapist, and you would like to schedule an appointment with your patient, you can send a designated appointment scheduling link via WhatsApp. This way, you will receive a fast response and can quickly receive a precise update about your appointment situation.
Bureaucratic services: the first connotation of bureaucratic entities such as councils and government authorities will usually not be "fast" or "efficient". Using WhatsApp for such entities could transform the user experience and enable actions such as sending documents or various inquiries to be much easier and faster when using WhatsApp.
Transferring information to larger groups: businesses based on large groups, such as communities, could use WhatsApp to send information to their members; from articles, through recipes and up to various video files.
Delivery follow-ups: in case your business provides delivery services, you could send your clients updates about their delivery through WhatsApp. The high message opening rates will allow your clients to stay updated in real-time and track their deliveries.
Registration to events: here as well, the high message opening rates WhatsApp has provided it with a tremendous advantage. Sending a registration link to a certain event using WhatsApp will probably lead to a faster response, which will make the process of registering for various events of your business much easier and faster. Out tip: send a reminder two days before the event accompanied by a link to a Waze to the event location and on the day of the event send another "Looking forward to seeing you" type reminder.
Reminder to the clients: various businesses need various reminders – requests for payments, events, appointments, etc. Sending reminders to clients via WhatsApp will increase the chances of immediate response, and will be pretty effective.
Promotions and sales: campaigns focusing on promotions and sales could also work better using WhatsApp. It is recommended to send short and light messages, which clearly explain the promotion or sale, and add a personal touch such as using the client's first name or referring to a previously purchased article.
WhatsApp marketing is suitable for a certain type of content. Same as choosing text messages or emails as a marketing platform that will be suitable for certain campaigns rather than others, here as well, choosing WhatsApp should be accompanied by professional reasoning. In case you found a service that could fit your business, don't hesitate to try it out on WhatsApp sooner rather than later!
https://inwise.com/wp-content/uploads/2023/09/logoW.png
0
0
Moran Moskovitz
https://inwise.com/wp-content/uploads/2023/09/logoW.png
Moran Moskovitz
2022-12-25 10:19:39
2023-02-07 15:10:16
WhatsApp – how can it help your business?