Though WhatsApp has been in our lives since 2009 (crazy, right?) – it only recently introduced the possibility to market using the app. How did that happen? WhatsApp is very protective of the privacy of its 2 billion users and makes sure to keep them away from unnecessary spamming. Now, the company is trying to find the correct ways to integrate marketing content that on one hand will keep her clean of spam and on the other, allow innovative marketing options.
After diving into marketing on WhatsApp, and learning about the advantages and disadvantages, you can decide if you wish to give it a go. Think it's the way to go? Great, we assembled a list of tips for correct marketing of your business on WhatsApp. Let's get started: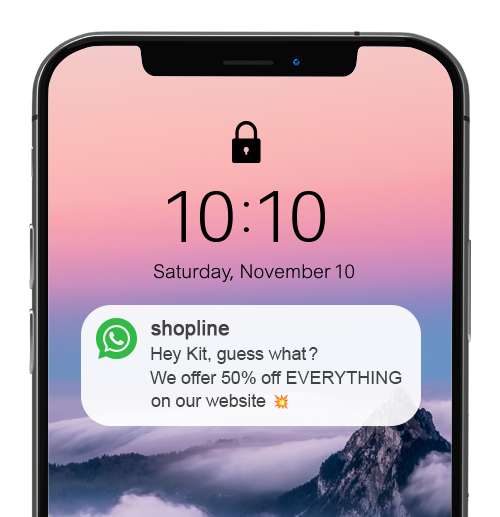 The steps for accurate marketing on WhatsApp:
Defined goals
Similar to any marketing campaign, it is important to predetermine the goals and character of the messages, so that they can clarify how you should approach the campaign and which content to create. For example, a campaign designed to update new clients on sales or a campaign designed to keep existing clients, will not be formulated in the same way and will target different population segments to realize these goals.
Create a contact list
Not every marketing content will be relevant to your entire target audience. Create a contact list for different target audiences so that you save them from spamming and make the connection between the content and the clients more precise. For example, if you have a pizza chain and you wish to give a special price to residents of a certain city, create a list of only the residents of that city. Alternatively, create one base with information fields using which you can perform relevance segmentation.
Using information about clients
The personalization effect is important when writing WhatsApp messages and creating the sense of a personalized message. Use information such as first names, last purchases, and important dates – and integrate them into your WhatsApp messages. The conversation will then be accompanied by context and a feeling that you "see" the certain client to whom you are writing.
Give value, Give value, Give value
As you expand your contact list, try to be original and creative when formulating your messages – at the end of the day, the client is looking for the bottom line – why should I read your messages? Did I just see that promotion you sent on Facebook or the local magazine a minute ago? If so, then I don't necessarily need to give you my phone number for direct and personal communication.
Invest in content
Interesting, creative, and relevant content becomes crucial in WhatsApp marketing since it is a wonderful way to stand out in an ocean of messages your users receive on a daily basis. For example, if you create content that is characterized by a unique design language, or written in a funny and smart way, the messages you create will stand out from other content that your users will receive and give you an advantage.
Dosage
When it comes to WhatsApp marketing, minimalism is the key.. Carefully choose the campaigns in which you will integrate WhatsApp and make sure you reduce the number of messages to the bare minimum. This way you will be able to maintain your business image clean of spam and pleasant for the user.
Get to the point
WhatsApp is fast, instant, and light – and that's what your marketing messages should be in order to keep your recipients attentive. And what does that look like? A message should have one main, focus, and precise message. Nothing more. For example, a message about a sale should only speak about that.
Give up the bots
The sense of an authentic conversation is an essential part of WhatsApp, therefore bots are not the way to go here. People like to talk to people, they like knowing that there is a real person on the other side who is listening to them and it is important to integrate that into the communication on WhatsApp. If you insist on using bots – make it clear that it is a bot that "speaks" with them.
Match the type of message to its content
Since WhatsApp is easy to use and instant, it is important to match the message to this profile. For example, providing customer service on WhatsApp could work for businesses that require the client to send documents or photos – since that's easy and comfortable to do using this interface.
Present yourselves
Using the representative's name will take away the unfamiliarity and the potential "bot" feeling that accompanies conversations of clients with different representatives. In case you open the conversation with a new client, it is important to present yourselves by name, thus reinforcing the feeling or human closeness.
Add a logo on your profile photo
In order to maintain the brand unity of your business, it is important to present the company logo on the WhatsApp profile photo. This way, your clients can be sure to be speaking with you and will save potential confusion.
Emojis
If you ask us, this is one of the best features of marketing using WhatsApp. The emojis light the mood of the conversation, add fun visuals and create a sense of a friendly conversation. It is important to use them wisely and match them to the conversation. For example, if you speak with an angry or particularly disappointed client, avoid using emojis that might make them feel as if you are being disrespectful or disconnected from the conversation.
Most importantly, DON'T SPAM
Since WhatsApp is very strict about its anti-spam policy, it is important to create a positive reputation with them. In case your clients will mark your messages as spam too many times, it will damage your reputation which could have you blocked.
Similar to other marketing tools, WhatsApp is a marketing tool that you should learn how to approach and operate correctly. Hopefully, we have provided you with the background you need to leverage your business in a new and refreshing way.
To learn more about sending WhatsApp messages with inwise, click here
https://inwise.com/wp-content/uploads/2023/09/logoW.png
0
0
Moran Moskovitz
https://inwise.com/wp-content/uploads/2023/09/logoW.png
Moran Moskovitz
2022-12-19 11:17:14
2023-02-02 09:26:32
WhatsApp marketing: how to do it right?