A simple browse online often reveals the phrase landing page, but what do we really know about this tool for our business?
Just like its name, a landing page is the place where the potential clients of your business land for the first time, and get the best glimpse at the product or service you provide.
This page will usually not be your home page or online store, but rather a completely separate external page, containing one goal that you choose to promote with your business. This page contains all the relevant information that will lead the visitor to purchase or close a deal.
Common uses for landing pages
Landing pages can have different purposes, which affects the type of content and design. Here are some examples of the more common types of landing pages that can be found online:
Signup form for updates:
Using a registration form for updates, you can create a contact list of potential clients for your business. This mailing list can be used by you for mailing special offers, valuable content, and important updates about your business.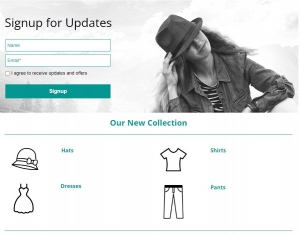 Contact information form (leads form):
A landing page whose purpose is to collect contact information should include all the information relevant to the visitor so that they will feel the desire and confidence to leave their contact information for the rest of the sales process (usually they will receive a call to schedule a meeting or to clarify final details before ordering/purchasing).
Event registration form:
A landing page that allows you to register for a conference, workshop or webinar is very popular. It is important to describe the content of the activity on the page as well as the lecturers, the schedule, and of course operational information such as address, directions, parking, etc.
What is the recommended structure for landing pages?
There are two ways to build and design your landing page. For each – there are advantages and disadvantages and above all – suitability for different uses.
Short and to the point – the short landing page is designed to 'get the job done'. In a few seconds, it must explain to the client what solution your business has to offer. On a short landing page, the margin of maneuver for marketing content foreplay, recommendations, and bombastic headlines is smaller. It will usually include a prominent title, a short and catchy text about the solution, highlight the value (for example a particularly interesting offer), and of course – the send button.
Long and planned – the purpose of long landing pages is to "pre-cook" the visitor towards the sales process. They are full of content and examples from the field. This type of landing page is suitable for the marketing of workshops, or services and products that require an explanation and preparation of the ground, to name a few examples. Landing pages of this type are designed in a more marketing oriented way, they emphasize the benefits of the product in a very prominent way and significantly increase the chance of closing a deal with those who contact you through your landing page.
How will visitors get to my landing page?
After designing the landing page, we will receive a link that clicking on it will show the page to visitors.
The link can be posted in a Facebook ad, a sponsored Google campaign, or even an email or SMS campaign. If your landing page is designed to increase your contact list, it is recommended that you set it up as a permanent link from your Facebook page.
Easily create a landing page for yourselves (and by yourselves)
If you have come across landing pages throughout your working day, you must have assumed that this is an expensive service or one that requires you to hire graphic designers and programmers.
We have some good news, it is as easy as it is effective.
Using the inwise system, creating a designed and effective landing page becomes a simple and quick task. You can choose your template out of a wide variety of designs and publish them immediately.
https://inwise.com/wp-content/uploads/2023/09/logoW.png
0
0
Moran Moskovitz
https://inwise.com/wp-content/uploads/2023/09/logoW.png
Moran Moskovitz
2023-05-22 12:05:51
2023-06-22 12:22:25
What are landing pages and how can they help my business?