Knowledge Base > Account Settings > New Account in inwise – The Steps
You've opened an account with inwise – welcome! We're glad to have you with us 😊
To get started and work with your inwise account, we've summarized the steps for activating your account:
Verification of email address
After you've filled out the account opening form, the next step is to verify your email address.
Just to confirm that the email address with which you opened the account indeed belongs to you.
How to verify your email address?
Right after you've opened your account, you'll receive an email to the address with which you registered the account. In the email, you'll find a button that says, "Activate My Account."
Click on the button and log into your account using the username and password you used during registration.
---
Account Approval
We believe in authorized marketing based on reciprocity between marketer and customer. That is why we allow for such reciprocal communication only.
To guarantee our customers enjoy high deliverability (emails sent are not blocked or labeled as Spam), we make sure everyone under our roof is playing by the rules, distributing proper content to legit contact lists.
Our support team reviews every new inwise account before approving the publishing and sending out newsletter and form features.
What can help speed up your account approval process?
Complete and comprehensive fill-out of your account approval form. This allows us to get to know you and your objectives of using the system better and faster. Every detail you can provide us helps the process.

The form looks like this: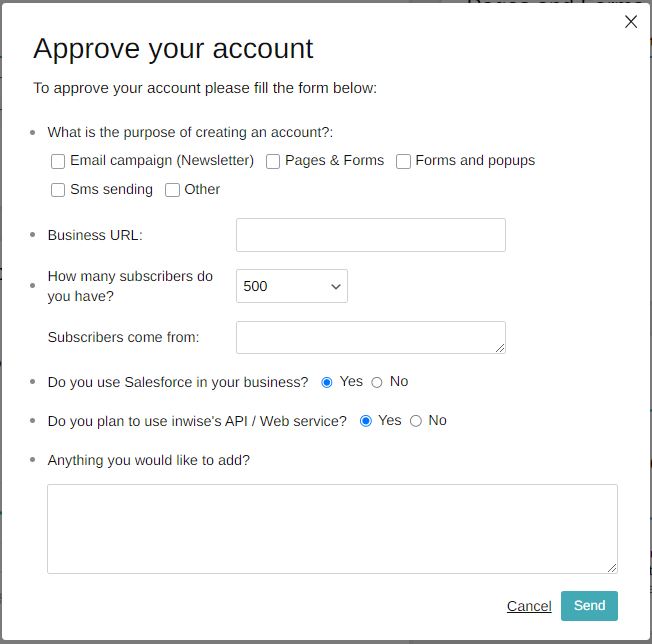 What can be done on inwise until your account will approve?
In the meantime, you can design campaigns (newsletters), create landing pages, signup forms, and pop-ups, and upload contacts to the system.
It is recommended to refer to the guides in the support area.
Sending campaigns for testing and to contacts, and completing the publish process, will only be possible after the account will approve.
I filled out the form. What now?
We are working to process it quickly, but since it is a manual review, it may take us 2-3 business days. At the end of this process, your account status will be:
Account approved – Your account is approved, and you can use the system (the first campaign sent will still be checked by us).
Account Under Review –Our support team has reviewed the account but cannot approve it yet – we lack information. To proceed with the account approval process, create campaigns or landing pages with genuine content, and then fill out the account approval form again – this way, we can identify who we are dealing with.
Unapproved Account – Unfortunately, the account has not been approved. It seems not to comply with inwise's terms of use. To dispute this, you can contact us.
---
What you can do during and after the trial period
During the 30-Day Trial:
Create landing pages, pop-ups, signup forms and publish them.
Upload your contact list to the system.
Send email campaigns to your contacts – how much? depends on your company and its needs.
Set up marketing automations.
What Happens After 30 Days:
If you upgrade your account, you can continue using the system according to your chosen plan.
If not, your account goes through a closure process:
First 30 days: The account is in a "Read-Only" status, allowing you to view and export data but not perform actions.
After 60 days from opening account , the account is permanently deleted, and the data cannot be recovered.
Cases where an inwise account is closed and the stored information disappears:
After the trial period of 30 days from the date of opening the account ends, the account will be closed and all information stored in it will be deleted.
After a year of no login.
30 days after the card expires or is no longer valid.
If there is a debt for more than 30 days.
The account manager has decided to close the account.
Once the account is closed, no information, media, or activity history can be recovered from it.
Therefore, we recommend exporting information important to you from your account.