Sending at the right time – Using AI
Mailings that reach contacts at the perfect moment for them have opening rates that are significantly higher than mailings that arrive at less suitable moments. Therefore, it is important that each contact receives the campaign on the perfect day and time for him/her.
This is where artificial intelligence (AI) comes in. The inwise system uses AI to identify opening and clicking patterns of each of your contacts (based on previous campaigns you sent) and accordingly sends the mailing to each of your contacts at the time when they typically open and click the links in the mailing.
How to define the optimal delivery timing?
First, create a new campaign. You can use the guides for 'create and edit an email campaign' or 'creating an SMS campaign'.
At the end of the campaign creation process, in the last screen "Scheduling and approve campaign sending", click on "Send by the optimized time".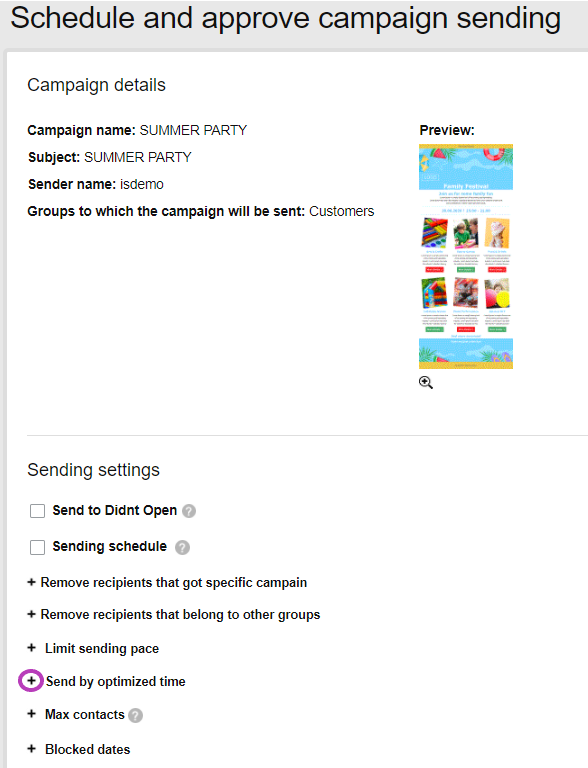 A field will open, where you can choose what aspect of the delivery schedule will be calculated: opened (percentage of mail opening) or clicked (percentage of clicks on links within the mailings).

You can set the sending period for the system to determine the optimal timing. These include:
Weekly – The system will weigh the most appropriate day during the week as well as the optimal time to send the campaign.
Hourly – The system will weigh only the most optimal time for sending the campaign so that the campaign will be sent on the same day as the submission (i.e. within 24 hours of submitting a campaign).
Daily – Select the day of the week you want the campaign to ship. The system will weigh the optimal time that day for sending the campaign. If there is no information in the system about the percentage of opening / clicking of contact on the selected day (no campaigns have yet been sent to the contact on that day), the system will send the campaign immediately.
To finish and submit, click "Send Campaign".